Incredible Volcano Views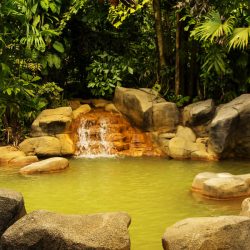 The Arenal Paraiso has 21 standard and 55 deluxe bungalows. Surrounded by lovely manicured gardens and great views of majestic Arenal Volcano. This large Arenal resort hotel has three large swimming pools. Also, on-site hot springs, spa, hiking trails and a canopy tour right on the property.
Arenal Paraiso Bungalows
You won't want to leave the hotel! Standard Bungalow: includes a Private bathroom, hot water, ceiling fan, cable TV, telephone, small mini-fridge and private balcony with direct view of the volcano. Two queen size beds or 1 king size bed.
Arenal Paraiso Jungle Lodges
Arenal Paraiso Resort and Spa Deluxe Bungalow: All wood bungalows 30% bigger than the standard. They offer a better view of the volcano, located higher on the property. Firstly, they include the same features of the standard bungalow plus A/C and a large covered porch with rocking chairs. It's a great mid-priced hotel with fabulous views of the volcano with clean and comfortable rooms.
Paraiso Services
The gardens are top notch, and environment of the property is relaxing and unique. Presently a Family run operation, the service is extremely friendly and personal. From the hotel also, you can enjoy horseback riding to the Arenal Volcano and the surrounding properties, Cano Negro wildlife refuge, white water rafting, La Fortuna waterfall, Tabacon hot springs, boat rides through the Arenal lake, fishing, horseback riding to Monteverde, Venado caves, hiking to Cerro Chato, Celeste river, canopy tours and much more.
By all means, have a great time near Arenal.