Costa Rica Currency
The Costa Rica Currency
The Colon
The Costa Rica currency, the Colon, was named after Christopher Columbus, or Cristobal Colon.  New colorful waterproof bank notes were released between 2012 and 2014. Featuring species of animals found in Costa Rica and are lovely works of art.  The bills come in denominations of ¢1,000, ¢2,000, ¢5,000, ¢10,000, and ¢20,000, ¢50,000 with coins of 5, 10, 25, 50, 100 and 500 Colones.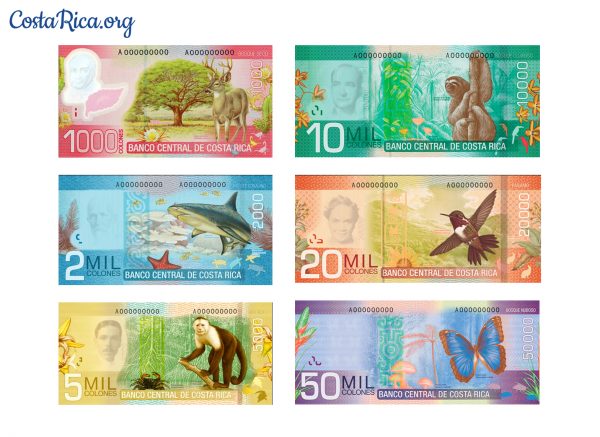 Exchange Rate
Presently the Costa Rica currency, colon, it exchanges at around ¢552 per US$1. It is important to check the updated exchange rate at a local bank or on the internet. To make it simple, one can think that 5500 Colones is worth about $10, or 55,0000 worth $100. The cost of living is a lot higher in Costa Rica than in its neighboring countries; it is, in fact, the most expensive destination in Central America. It is also the one with the best infrastructure and most natural beauty.
Cost of Living in Costa Rica
Costa Rica, recently voted the happiest country on earth, based on its life expectancy, lifestyle, values, and its environmental sustainability. Every year more people come to visit this little country for its natural beauty and eco-friendly attitude. Those who travel on a shoestring can survive on $50 a day. While top-notch hotels can charge up to $500 or more. Prices of luxury hotels and tours are in dollars, and dollars are widely accepted, but it is useful to have some Colones on hand.
Shopping
Shopping for food and clothes is always fun, and there is a broad range of choices. However, it is not as cheap as one would expect. Clothes, in particular, are expensive in Costa Rica. Supermarkets now offer a wider selection of local and outstanding food and a good selection of wine. It is significantly more costly than in the US, especially for imported items. Shopping in the center of San Jose, like at the Central Market on Avenida Central, is cheaper than in the flashy Malls of the Suburbs, and this is also where you will find typical artesanias and souvenirs.  The most economical places to shop for fresh foods, meats, fish fruits, and vegetables are at outdoor ferias. Usually held in the mornings on weekends, as this is where local farmers and other purveyors come into town to sell their wares.
Costa Rica Currency
October 19, 2016
© Copyright all rights reserved costarica.org is an on-line resource for factual information about Costa Rica. Read our -
Sitemap.