The Best Lake Arenal Windsurfing
While traveling in or near Arenal, you will find a variety of adventures waiting for you. There are so many opportunities for adventure experiences here that it will be difficult to try them all. One of the most popular and well-trusted tours in the area includes three things: water, speed, and air. The windsurfing opportunities in Lake Arenal are the best in all of Costa Rica. All due to the high winds of the area. The Lake Arenal Windsurfing tour is done at Lake Arenal and is suitable for those of any level of experience. Take part in a water adventure like never before in one of the most beautiful areas in Costa Rica.
---
All are Welcome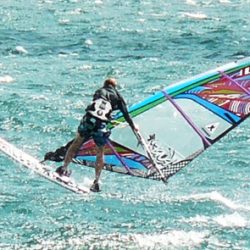 Lake Arenal Windsurfing requires balance, discipline and most importantly, patience. The professional and experienced bilingual guides will dedicate themselves to help you learn this beautiful sport. As Lake Arenal is warm, calm and breathtakingly beautiful, it is the perfect place to learn any water sport and try something new. Both full day and half day lessons are available for all levels of experience where you will learn the perfect form, position, and intuition while windsurfing, and plenty more for you to become an expert!
---
Much Practice
During your Lake Arenal Windsurfing adventure, you will not only learn general techniques. You will also learn valuable sailing theories, equipment handling, controlling and steering while windsurfing. You will receive much information on each of these aspects and checked for complete understanding by practicing before heading on to the lake. Your guide will provide you with the necessary safety equipment, which includes a helmet and life jacket, and of course your board you will be using to practice. Don't miss out on this exciting adventure in the beautiful Lake Arenal!