Costa Rica is home to an increasing number of expats. All from countries such as the USA, Canada, the UK and Europe. With the great weather, beautiful landscapes and beaches, relaxed lifestyle, and stable political climate, it is not hard to see why. Whether you are a retiree, moving over for work, or are looking for a holiday home in the sun, Costa Rica is a safe bet for a real estate investment. Buying property and moving house can be stressful at the best of times. Though, moving internationally to a Spanish speaking country can at first feel like a real headache. With a bit of research and talking to several real estate agents, however, buying Costa Rica real estate can be a lot easier than you think.
Buying Real Estate
Location, Location, Location
Whether you you are looking for your own luxury real estate in the sunny Guanacaste Costa Rica, buy property to then run it as a vacation rental in a gated communities, … One of the first things you will want to do when looking for Costa Rica real estate is decided where you want to live. This will depend on a lot of your budget, circumstances, and what sort of lifestyle you envision having. Are you looking for a beach front house, city living, or a rural mountain retreat? Costa Rica can offer all of this. Your experience will greatly differ depending on where you decide to call home. Even if you have decided what you want, different parts of Costa Rica have different climates, landscapes, and property prices.
Life owning a villa by the sand in the region of Guanacaste will be very different from one in Cahuita on the other side of the country. Both will give you access to beautiful beaches and a relaxed lifestyle. The local character and culture vary widely across the country as does the price of a property.
Another factor to take into account is the practicality of your chosen home. Costa Rica's main airport is conveniently located right in the center of the country. That makes most of the country easily accessible. This is also helped by the fact that Costa Rica has an excellent public transport system. Its buses are comfortable, cheap, and modern. If you plan to get away to your holiday home for a few days, however, do you want to spend more hours of your precious time than necessary getting to and from your property.
What should you know about real estate in Costa Rica?

Property In Costa Rica
Buying land in Costa Rica can be tricky if you don't know what you are doing. Check out our general tips on the do's and don'ts.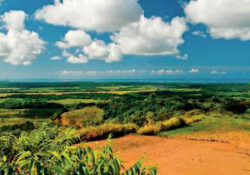 The 12 steps to buying land in Costa Rica
Discover the 12 steps that make buying property in Costa Rica a breeze! Your own slice of paradise was never so easy to reach.
What kind of home do you like?
Closely linked to this is the question of how 'native' you want to go. There are many expat communities in Costa Rica. They can offer all the comforts of home. Furthermore, being amongst people from your home country can be comforting at times. Also, allow you to make new friends. On the other hand, if you are willing to get off the beaten track. You could choose an authentic – and remote town or village and dive into Costa Rica.
The benefits of this include getting to know the country and its people. Also, avoiding the crowds of tourists, and the lower price of property. Most people try to strike a balance between these two sides. This is something you should think about carefully before making any decisions. It is a good idea to spend a reasonable amount of time in the place you are considering calling home before making any purchases. This will allow you to decide if it is right for you.
Costa Rica Real Estate Cost
So how much do you need to buy Costa Rica real estate? The answer depends on what you are looking for and where you are looking. You might, however, need less than you think. It is possible to buy a house for less than $100,000. Many of these houses are in good condition and have a decent amount of space. While they might not be mansions, they would make nice family homes. On the other end of the scale, it is possible to spend millions on the property. This will get you acres of land, sea views and amenities such as swimming pools and security.
As a general rule, the further from the capital, the cheaper the cost of property. Prices rise however in expat hotspots such as Playa Hermosa or Jacó. The average cost of housing in the capital, San Jose, is around $2,100 a square meter. That means you can get a comfortable family house in a nice neighborhood for between $250,000 and $500,000. For a similar price, you can get a large house complete with land, pool, several bedrooms and maybe even an ocean view in one of the more remote seaside parts of the country.
The other option is to buy land and have a property built, rather than buying an existing home. This obviously requires more time, effort, and a greater commitment. Although it will usually work out cheaper. You also have the benefit of having an input into the design of your home. An exciting opportunity if ever there was one. Land's bought for a few thousand dollars although sometimes a steep increase in price if you want sea views or beach access.
Finding Representation
Once you have decided on the area where you want to buy, you will want to start looking at property. This is an exciting activity, but it also means learning how the Costa Rican property market works. Luckily, Costa Rica's developed economy and expat housing demand mean that its property market is pretty developed. Also, won't differ too much from what you are used to backing home. This is especially true when you compare it to some of the neighboring countries. Doing business is a lot easier here than in Nicaragua or Guatemala for example. There are regulations in place to protect both buyers and sellers. Once purchased, you'll feel confident that your investment will be protected.
The easiest way to buy Costa Rica Real Estate is through one of the many western agencies that operate in the country. Some of the biggest international names are here including Remax and Sotheby's. The advantage of using one of these companies is that they provide a level of security, similar to that found back home. It's an important factor when doing business as consequential as buying property. Agents working for these companies will also speak English. That's something that will save you a lot of stress if your Spanish is not yet at a high level.
You will want to make sure that you understand completely every aspect of the process. All, so you avoid any misunderstandings or nasty surprises. Using a bilingual realtor will go a long way towards making the process as smooth as possible. There are, of course, many smaller companies and agents. They offer an equally professional service. You should not be afraid to use one of these if they have a good reputation and follow procedures correctly.
Using Costa Rica Real Estate Agencies
The final option is to choose one of the local Spanish-language agencies. This is what the locals do, and depending on your circumstances, it could be a good way to find a property that suits your needs. While the bigger international agencies often list properties built with expats specifically in mind. Costa Rica, real estate agencies, are full of houses for the Costa Rican market. This means that if you are happy to live as the locals do, you can find some great deals. It does, however, require a greater level of effort and caution. Make sure everything's worked out without any problems.
Unless you speak a high-level of Spanish (or the agent happens to speak English), you will probably need a translator to help you during the process. You may have to work harder to find the property you want. As well as a realtor, it is a good idea to find a lawyer who specializes in property. They will know the ins and outs of the market and the legislation surrounding it. Again, you should look for a bilingual representative. You should check if they have an SUGEF escrow account so that money's safely held there. A good lawyer can give you that extra bit of security desired when large amounts of money are changing hands.
Costa Rica Real Estate Regulations
So once you have chosen the perfect part of Costa Rica, found a realtor you trust, and have your eye on one or two properties, what other practicalities do you need to take into account? What is the regulation like surrounding expat properties? The Costa Rican government makes it easy for foreigners to purchase property – in fact, you are subject to the same rules as locals. This means no finding a local to put on the contract, and no extra taxes or charges. You do not need residency or a visa to make your purchase; you can conduct all your business while on a 90-day tourist visa – free for citizens of most countries on arrival. Of course, if you plan to relocate and work in Costa Rica, a visa's required.
You can register a property in your name, but many people chose to form a corporation in order to qualify for favorable tax rates. It also makes the process of giving the property to family members simpler and allows you to avoid property taxes if you ever decide to sell up. Furthermore, you can be sure that your property rights are safe in Costa Rica. The country has a full and transparent land register, meaning that everything's regulated with no risk of conflicting claims occurring.
Finalizing the Sale
Once you have found a property and agreed on a price, your agent will write up a contract, and if the seller is happy with it, your lawyer can write up a formal legal agreement. It is customary for a deposit of 10% to be made, and this should be held in your lawyer's SUGEF account. Make sure that you allow plenty of time for money to transfer – there are often delays with international money transfers, and Costa Rica's banks are required to conform to strict anti-money laundering laws which can delay the process.
Agency fees, transaction taxes, and other costs, normally split equally between the buyer and the seller in Costa Rica, meaning that you will need to budget for this as well. One final practicality to keep in mind is investment potential. You see, apart from providing you with a great place to live or vacation, buying property in Costa Rica can be a smart financial decision as well.
Demand for property is increasing amongst foreign buyers and means that property prices are rising steadily. New developments have built up in previously overlooked parts of the country – particularly in the South. Bought relatively cheaply and will likely only grow in value as these areas start to become popular. Costa Rica's political and economic stability means that this upward trend is likely to continue for the foreseeable future. If the resale potential is something that concerns you, it is worth factoring local growth when decided where you want to buy.
Conclusion
If you've been considering buying property abroad than Costa Rica might well be the place to do it. The country's stunning landscapes, great weather, and laid back lifestyle make it the perfect place to call home. Its stability and developed regulations also make it an easy place to do business. You can feel confident that your property rights will be respected once you have made your purchase. Add to this, the low prices and the potential for financial returns on your investment, Costa Rica real estate might just be for you.
If you want to read even more about how to find your dream property and how to avoid common mistakes, check out a great guide from Coldwell Banker Tamarindo. Enjoy the benefits of living in a tropical paradise!
© Copyright 2004-2021 all rights reserved. My Costa Rica (CostaRica.Org) is a Travel Agency that offers Custom Costa Rica Vacations & Packages Including Hotels, All-Inclusive Resorts and Tours.
Read our
Privacy Policy
-
Sitemap.