You are almost there! Now that you have planned out your dream vacation to Costa Rica with the help of our travel coordinators, there are only a few more things you need to think about before you can step onto the plane and take off to paradise! What Do You Need To Bring?


Visa Requirements
Costa Rica has designated four groups of international countries with four visa requirements. If you are entering Costa Rica as a citizen of the first or second group, you will not require a visa. Only citizens of the third and fourth group will require a restricted visa, which must be applied for at least 90 days before expected travel. For more information check out our page on Visa Requirements.
Valid Passport
First group citizens will need a passport with at least one day left on its validity. Second group citizens require a passport with at least three months left on its validity. Third and fourth group citizen require a visa and will need to consult with a Costa Rican consulate before traveling to Costa Rica. For more information contact your local Costa Rica consulate or read more on our Visa Requirements.


Round Trip Ticket
First and Second group citizens need a return ticket proving they will leave the country within the tourist visa period upon arrival. You will either need a return flight to your home country or any other country, or a bus ticket to Panama for example. For citizens of the third and fourth group, it is recommended that travel tickets should not be purchased until after a restricted visa has been approved as there is no guarantee a visa will be granted.
Vaccinations
Please note that health information, warnings, and concerns change all the time. This information is not final and should in no way be considered health advice. It is always recommended that you check with your local health professional before traveling to a different country. Some recommended vaccinations for Costa Rica travel are vaccines that protect against contracting hepatitis A and B, measles, typhoid, and other. If you are traveling to Costa Rica from South America and Sub-Saharan Africa, you will require a Yellow Fever vaccination. For a more information read through our Costa Rica Vaccines page.
PLEASE KEEP IN MIND THAT IT IS ALWAYS ADVISABLE TO CHECK WITH THE CONSULATE OF ANY COUNTRY YOU INTEND TO TRAVEL TO BEFORE YOU MAKE YOUR PLANS TO ENSURE YOU HAVE THE MOST CURRENT INFORMATION ABOUT VISA AND VACCINATION REQUIREMENTS OR HEALTH AND SAFETY CONCERNS.

Packing List
We have collected some of the most recommended items and things to pack for your Costa Rica vacation. Possessions such as drugstore items, toiletries, pharmaceuticals, personal valuables, underwear, and others are missing on this list as we consider them as basics and staples in your suitcase/luggage.
Besides that, don't forget to pack lightly especially if you are going to take domestic flights throughout your vacation. Local airlines impose weight restrictions. Furthermore, if you are staying at the beach we highly recommend taking quick-dry, lightweight clothes! Many resorts and hotels offer laundry service for a small charge.
Additionally, sunglasses, a beach towel, a swimsuit, and a hat are always a good idea for your beach outing.
If you stay in San José or other mountainous regions we recommend you take a sweater, a light jacket, and long pants as it can get chilly especially in the evenings. You might also take a day pack such as a backpack or fanny pack for convenience.
To conclude this list, you should also take your credit card, your driver's license if you plan to rent a car or ATV, a Costa Rican guidebook, and an English/Spanish dictionary although approximately 90% of people working in tourism speak English.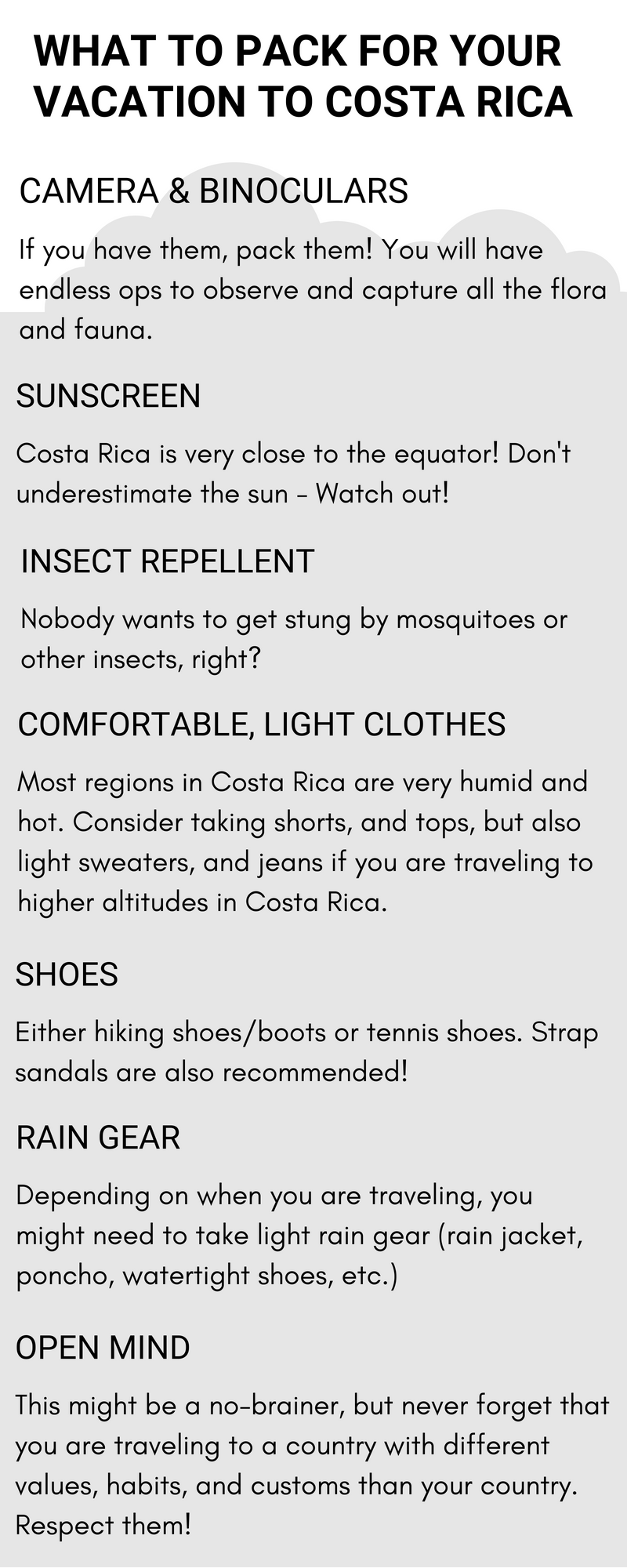 Traveling with Pets
Sometimes you cannot find someone to take care of your beloved four-legged friend while you are away or maybe you even want to take your pet with you on vacation. When planning your trip, do not forget to tell our travel coordinators about your pet so that they can look for pet-friendly hotels, resorts, and transport possibilities.
Electricity & Voltage
There is no need for you to buy an electricity converter before you are traveling to Costa Rica from North America. Your normal electric-powered devices such as shavers, chargers, etc. functioning in an electrical wall outlet without any problems. If you're traveling from outside North America you might need a converter and / or an adapter. In Costa Rica the power plugs and sockets are type A and B. The standard voltage is 120 V and the standard frequency is 60 Hz.

Money
How much money you should take depends entirely on what you plan to do and buy, where you want to go and how you want to get there. We recommend you take your credit card as you can always withdrawal money at an ATM and as for cash you might get a better idea with this listing of average costs of food: You can eat and drink in local restaurants for around $7-12 or for up to $25-50 in more formal restaurants. Taxi or Uber services are usually cheaper than in the U.S. You can expect around $2-6 for 2 or 3 kilometers depending on local traffic.
What Are You Waiting For?
Now that you have a better idea of what you need to travel to Costa Rica, you can start planning your trip. If you have already done that, now is the time to lean back and count down the days until take-off!
Because in the end, having everything figured out for your vacation takes a lot of pressure off your back and you can now focus on all the beauty Costa Rica has to offer. You might want to download our Travel Guides for extra information on Costa Rica and your upcoming vacation to paradise! Don't hesitate to Contact Us for any further information or concerns regarding the documents, papers, or items you need to take to Costa Rica.