From the beautiful and pristine Beaches of Guanacaste to the exotic Beaches of the Caribbean to the wild beaches of the South Pacific, Costa Rica surfing is incredible. Wherever you go, there are great waves. Surfing in Costa Rica offers amazing views of clean wild beaches, tropical sunsets and lush rainforests. Plan your next surfing vacation to Costa Rica today!
The Best Surfing in Costa Rica
Costa Rica is the best surfers' hangout, and surfers come here from all over the world.  You will find the best Hotels in Costa Rica on both coasts, from top-notch luxurious resorts to economical cabins.  Depending on your budget or on what you are looking for, we will find a great spot.  Costa Rica enjoys a very warm climate all year along.  The rainy season lasts slightly longer on the Caribbean side.  Guanacaste, an old cowboy country, has long wild deserted beaches.  Also, the Central Pacific is home to Playa Hermosa where you will find the most challenging waves. In Golfito, you can visit Corcovado National Park and Marino Ballena National Park for Whale Watching.
Longest Waves in Costa Rica
Costa Rica has over 50 famous surf breaks along its gorgeous beaches, some of which are legendary. The waves are huge and offer hollow and fast rides.  Some breaks, like in Pavones on the Southern Pacific Coast, offer the longest rides of the world. Getting there by itself is an adventure, it is all worth it in the end!  Some of these beaches are hard to reach due to poor roads conditions. Some are reachable by plane, but many domestic flights will not accept surfboards, so plan to rent a car or travel by bus. 
Surfing in Costa Rica – So many Spots to Choose from!
Playa Hermosa near the famous Jaco Beach is the number one place to surf. It is followed by Playa Pavones on the Central and Southern Pacific. Thirdly, Witches Rock and forth Playa Grande both in Guanacaste and lastly Salsa Brava on the Caribbean.  Other excellent surfing beaches include Santa Teresa and Malpais in Nicoya, Playa Dominical, Playa Negra, Playa Junquillal, Playa Naranjo and Playa Avellanas.  
The beaches of Costa Rica are clean, pristine and exceedingly beautiful.  They include either white or black sand. The beaches of Costa Rica have so much to offer. Also, they are constant on the Pacific Coast between the months of April and October. From December to April is really when you get the cleanest surf.  The Caribbean coast gets most of its waves from the tropical storms off the Mexican coast and the season does not last for quite as long as on the Pacific Coast.
---
Beaches with the Best Surfing in Costa Rica
Hermosa Beach near Jaco (Playa Hermosa)

This Hermosa Beach, there are many others, is known for its easy access and proximity to Costa Rica's biggest surf city, Jaco Beach. Hermosa Beach is always mentioned as the place to surf in Costa Rica offering eight kilometers of dark sands and powerful, fast hollows for expert surfers. This beautiful beach was the site of Billabong's ISA World Surfing Games back in 2009.

On the site, Hermosa offers a few quiet beachfront hotels and a couple of stores and restaurants, since the vast amount of Hermosa surfers stay in Jaco hotels. The dark volcanic sands at Hermosa Beach are in a Natural Wildlife Reserve for marine turtle nests, which is the reason most of Hermosa seems desolate. So if you see a turtle, don't let it see you, and by all means, do not use a flashlight on it or take pictures of it.

Pavones Beach (Playa Pavones)

Pavones Beach is way down south nearing the border with Panama on the Pacific, where on a good day, waves can reach exceptional lengths, sometimes as long as half a mile. The waves there are so consistently long, it has been rated as the second longest left in the world.

Flying to Pavones is a good option for this World class Costa Rica surf. This part of Costa Rica is remote, and few surfers are willing to make the long drive, which is why it is still World Class.

Grande Beach (Playa Grande)

Grande Beach, or Playa Grande, is part of Las Baulas Marine National Park, a leatherback turtle (Dermochelys coriacea) conservation area for nesting that happens to produce fast and fun right and left fifty-meter beach breaks with sandy bottoms.

The waves are so good here; turtles surf them since the day they hatch.

Nearby Tamarindo Beach has a fun nightlife after a day of surfing.

Salsa Brava (Puerto Viejo)

Caribbean Salsa Brava in Puerto Viejo Beach has public access to epic fast, powerful hollow right reef waves only pros should handle. Even so, this beach attracts a crowd of surfers over the weekend that can be overwhelming. Salsa Brava means Gnarly Sauce because it is considered home to Costa Rica surf's heaviest wave.

There are 1100 miles of coastal surfing in Costa Rica, but these five beaches have made Costa Rica surf a Worldwide name. 
---
Costa Rica Surfing Map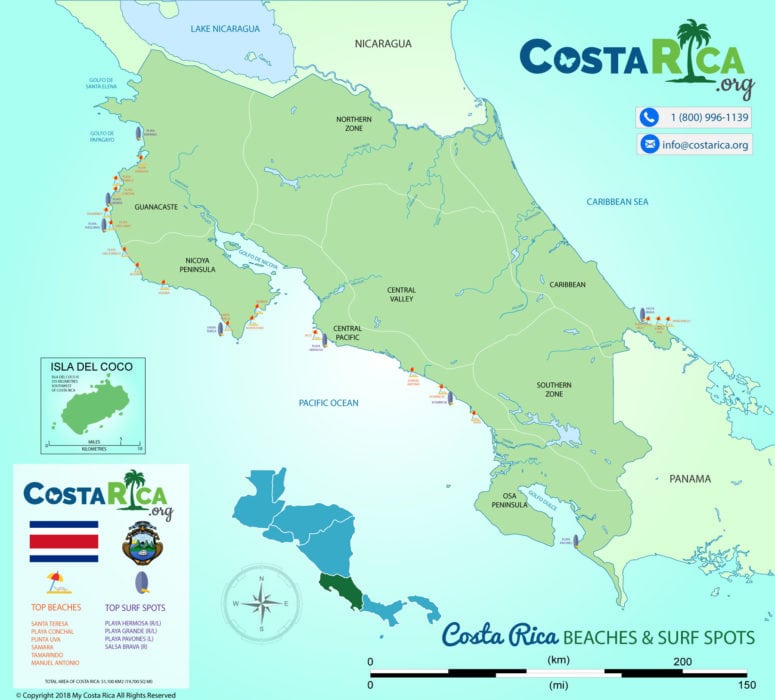 ---