Our Costa Rica facts page contains an overview of articles that provide details about Costa Rica, its people, its history, government, political structure, social values, policies, geography, weather, plants and animals. These articles and pages are meant to educate and inform users of everything they want to know about Costa Rica. Pura Vida!
Find only the best information here
Costa Rica is cherished as one of the world's most popular eco-tourism destinations. Thanks to its beautiful landscapes, pristine beaches, myriad adventure activities and proximity to the U.S., the country draws more than two million tourists each year. Learn more about this amazing nation with these interesting facts that helped make this paradise one of the "happiest countries" on Earth.
Costa Ricans live the Pura Vida by enjoying life's little pleasures. Ticos, a term used to describe Costa Ricans, spend time with friends and family, enjoy meals together, and just explore the great outdoors in their beautiful country. According to the Happy Planet Index, Costa Ricans enjoy the highest life satisfaction in the world. Now that's Pura Vida! Why not visit Costa Rica and come joins us in the happiest place on earth? 
Country and Politics
With no standing army, the Costa Rican government has poured those funds into both public education and preserving the natural heritage. Today there are more than 100 protected areas consisting of reserves, wildlife refuges and national parks in Costa Rica. Costa Ricans also enjoy one of the most modern public health care systems, which was recently ranked 36th in the world by the World Health Organization. Additionally, the country boasts one of the highest life expectancy rates at 77 for men and 820 for women.
Demography, History and National Symbols
Find out about some of the amazing history in Costa Rica. For example, the Diquís Delta stone spheres are one of Central America's most quixotic and strange archaeological findings. Believed to be around 2,000 years old, thousands surprisingly uniform stone spheres, ranging in diameter from 4 inches (10 cm) to 8 feet (2.5 m, discovered in the 1940s. Many find stones placed close to graves, in various shapes. Also, thought the spheres were created by the ancestors of the Boruca, Térraba, and Guaymi Indigenous tribes. Check out more below.
Geography and Weather
There is so much to discover about this amazing country. The sun rises and sets at 5:45 am and 5:45 pm every day of the year. Isla del Coco is the most remote region of Costa Rica, nearly 360 miles from the mainland into the Pacific Ocean. Also, it is the largest uninhabited island in the world with an area of about 24 square miles. Costa Rica has over 120 volcanic cones and 7 active volcanoes. Check ou the articles below.
Frequently Asked Questions
What questions do you have about Costa Rica? There are many but here are some of the most frequently asked questions to help you on your next trip to this wonderful country.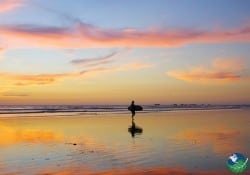 Where is Costa Rica?
Find out where Costa Rica actually is on the map. it isn't a big country, you may not have even heard of it until now but you are sure to know where Costa Rica is once you read this Article. 

How Big is Costa Rica?
While Costa Rica takes up only .03% of the world's land space, it contains 6% of all known living species and has the densest biodiversity on the planet. 

What time is it?
This article provides you with the current time in Costa Rica and also expands on the notion of Tico Time.
 A Green Country
Though small in size (similar to West Virginia), Costa Rica is home to an estimated five percent of the Earth's flora and fauna. The entire country spans just 19,730 square miles, but its multiple ecosystems and microclimates accommodate such diversity within its borders.
Almost 95% of Costa Rica's energy is derived from renewable resources- either geothermal or hydroelectric means. With this abundance of clean energy, the country is well on its way to becoming entirely carbon neutral by 2021.
Thanks to its progressive environmental policies and government-sponsored reforestation programs, Costa Rica is also labeled 5th Greenest Country according to the Environmental Performance Index (EPI).
Based on scientific research, the Nicoya Peninsula was deemed one of the planet's seven blue zones: Areas where people live longer, healthier and happier lives. This is largely attributed to the outdoor lifestyle, closeness to family and healthy diet.
© Copyright 2004-2021 all rights reserved. My Costa Rica (CostaRica.Org) is a Travel Agency that offers Custom Costa Rica Vacations & Packages Including Hotels, All-Inclusive Resorts and Tours.
Read our
Privacy Policy
-
Sitemap.