Wellness Guide
"Be one with nature and truly relax with your free Costa Rica Wellness Guide"

What's inside the Costa Rica Wellness Guide?
Iside the guide is all the best tips to help you find the perfect Costa Rica Yoga Retreat. Find out what retreat you should go to. Focus on your inner self and place a better connection with nature. Also, find out how we at My Costa Rica can help make your wellness vacation to Costa Rica that much better.
Why visit Costa Rica
The best Costa Rica Yoga Retreat's
Insider info on Costa Rica Travel
How my Costa Rica can help
Take a Look Inside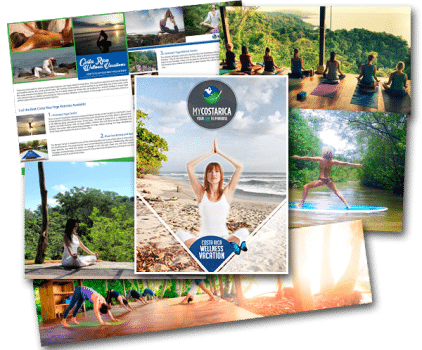 Why Visit Costa Rica?
Not only is Costa Rica a beautiful country you will also be able to place a much better connection with nature with how deep we send you into the rainforest. Many of these Costa Rica Yoga Retreat's are located far into the jungle. They help you have peace of mind and be as far away from unnatural life as possible.
What else is there to do?
Other than practicing yoga, you could get a comforting massage, spend some needed time at the beach. Also, try out one of the many tours through any number of the national parks. Explore the most remote parts of Costa Rica and see for yourself why the locals love this country.
My

CostaRicaReviews
Over 10,000 Satisfied Clients Since 2004!
We at My Costa Rica are proud of the customer service and personalized attention that we offer our guests.
We're available for our guests 24/7 during their trips should they need us for any reason.
Save Time, Money & Have the Best Vacation to Costa Rica with our custom travel packages.
But don't take our word for it – see what our clients have to say!

© Copyright 2004-2021 all rights reserved. My Costa Rica (CostaRica.Org) is a Travel Agency that offers Custom Costa Rica Vacations & Packages Including Hotels, All-Inclusive Resorts and Tours.
Read our
Privacy Policy
-
Sitemap.