You are traveling to Costa Rica and decided you want the freedom of having your own transportation. Here is one of the questions you may ask yourself … Do I rent a car or do I rent a motorcycle? The answer is very simple because it all depends on what kind of traveler you are. If you are traveling with a group or your family or you will mainly be hitting some big destinations and beach locations, then a car is probably the way to go. But if you want to experience that extra bit of freedom as the rogue traveler with a keen sense of exploration and adventure? Then you definitely want to rent a motorbike. Costa Rica has been investing in its roads quite a bit but if you go off the beaten path, you will still encounter a nice bit of rough terrain to master. From one coast to the next you will see fantastic mountain views, beaches, volcanoes, National Parks, waterfalls and more. It all looks so much better without a windshield!
---
Is Costa Rica motorcycle- friendly?

Short answer? Yes. Wherever you go, you will see locals taking out their bike to head to the nearest river or beach. The warm climate in Costa Rica means bikers can wear light clothing and feel a level comfort even when hit by powerful winds. The unpaved backroads that can be a nightmare for cars, are a fun challenge for motorbikes. This makes traveling by bike ideal for the tourist who wants to experience some of Costa Rica's countryside rather than to stick solely to the bigger destinations on the map. You can navigate the narrow paths and find the gems too far away for the hiker and too inaccessible for the cars.
---
What precautions do I need to take?

Mind the potholes! You may have access to more places but that doesn't mean you shouldn't practice caution when heading onto rougher terrains.
You should also pay attention to possible wildlife crossing the roads. It is not unusual to see crossing iguanas and if you head further east to the Limon province, even sloths can fall victim to passing vehicles.
When going off the beaten path, you will no doubt have to cross some rivers. Take care not to lose control of your bike here and take these roads during dry season when the rivers are less full and less rough.
Motorcycle drivers are notorious for flaunting the traffic laws but in Costa Rica, so are all the other road users. Be on your guard when traveling through bigger cities like San Jose. Here less so for the road conditions but more so for the attitude of the local driver. Costa Rican drivers will be rather aggressive in the countryside as well as the city. But San Jose has a huge amount of traffic and while those riding a bike can navigate through traffic jams and ride in-between the cars quite easily but don't forget you are also more vulnerable on a bike than in a car.
Lastly, keep in mind that fuel can be more expensive in the remote areas because it will be sold to local stores.
---
Best places to travel with a motorcycle in Costa Rica

The whole country will be available to you and you will have a unique opportunity to explore the countryside and tucked away places. But if you are after an adrenaline rush and want to see some of Costa Rica's most famous sights along the way, take the direct route between Arenal and Monteverde. This rocky terrain takes you through lush jungles usually only traveled on horseback or on foot. Other than the conical beauty that is the Arenal Volcano and the iconic Monteverde Cloud Forest, you can hope to spot some wildlife along the way. Don't hit them with your bike, though!
---
What do I need to rent a motorcycle in Costa Rica?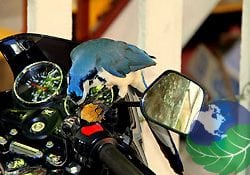 License
First of all, a no-brainer: you need a valid motorcycle license! A license from your own country will do and you do not need an International Driving Permit (IDP), although many places will also accept this.
Gear
Most places will only provide you with a helmet so if you want some extra safety gear, you are free to bring your own. Before you decide on what to bring, remember to dress according to the climate in Costa Rica and whether you are traveling during the dry season of the rainy season!
Possible renting options
Different places will have different offers! Make sure you check which ones communicate best with your wishes. Here are some of the most well-known bike rentals in Costa Rica:
---
How much does it cost to rent a motorcycle in Costa Rica?

Of course, this depends on which company you decide to go for, what type of bike you choose to rent and if you intend to travel solo or in a tour. From the most basic to the more complex options, prepare to pay anything from 60 USD to 200 USD a day. You can possibly negotiate a better rate if you choose to rent the bike for a longer period of time.
Next to the daily price, also take the deposit and insurance into account!
---
Can I ship my own motorcycle to Costa Rica?

Are you planning a long trip across Costa Rica or even Central America and would you rather bring your own bike? Then you are free to do so. You can have your bike, or car for that matter, shipped overseas. The costs will depend on where you ship it from but if you do so from the US, you can expect to pay between 1000 USD and 2000 USD. Always check for details with the company you intend to work with!
Have the ride of your life and add some Pura Vida miles to your bike!