Costa Rica's Top Birding Spots Day by Day Itinerary 
If you're looking for some of the best bird watching, birding tours and birding vacation packages, visit Costa Rica. This tiny country in Central America offers some of the most unique and beautiful bird species in the world. With over a dozen life-zones from tropical rainforest to highlands and lowlands, birdwatching in Costa Rica is an unforgettable experience. Bring your camera and capture the famous Resplendent Quetzal, a Mangrove Hummingbird, Cotinga or a Swallow-tailed kite. You'll also find Keel-billed toucans, Trogons, Tanagers and Scarlet Macaws. On this birding vacation, My Costa Rica will take you to some of the best birding hotspots in the country. You'll travel to the Caribbean coast, the Arenal Volcano and the Central Pacific area close to the Tarcoles River. Get ready for the birding vacation of a lifetime! 
---
Day 1:

You will fly into San José International Airport where a My Costa Rica representative will be waiting to take you to your first hotel, the Hotel Bougainvillea. Hotel Bougainvillea is surrounded by beautiful gardens that will make you forget how close to the city you are. You can also enjoy the swimming pool, tennis court, fitness center and gym while you relax and get ready for your upcoming Costa Rica tour. 
---
Day 2:

You will leave the hotel early in the morning and have a van ride through Braulio Carrillo National Park. After two hours, you will arrive in Guápiles and have a delicious breakfast. Then it takes another hour in the van to get to La Pavona where you will board the boat to Tortuguero. You will check in to Mawamba Lodge, near the Tortuguero National Park. Nestled on a fine strip of land between the Caribbean Ocean and the Tortuguero Canals, it blends in with the surrounding natural richness to welcome you to this tropical sanctuary. In the afternoon you will go on the Tortuguero Town Tour. The island town has a fairly basic lifestyle and no cars. Venture down the paths and watch kids playing outside and riding bicycles. It is like discovering the rustic charm from another time. Keep your eyes out for a variety of birds flying overhead! 
---
Day 3:

On your second day in Tortuguero, you will go to the Tortuguero National Park, a protected wilderness area on Costa Rica's northern Caribbean coast. Its beaches are mainly famous for being the nesting grounds of the green sea turtles. Enjoy this magical phenomenon! 
---
Day 4:

After breakfast, My Costa Rica will take you back to Guápiles by boat and van to stop for lunch. A new van will be waiting for you to take you to Sarapiqui which takes about one hour. You will check in to La Selva Verde which is a lodge and a rainforest reserve. It's tropical rainforest location lets you take advantage of several adventure and nature activities. Go zip lining, white water rafting or hiking on nearby trails. 
---
Day 5:

On the fifth day of your vacation, you will go on a Birding Tour on the grounds of Selva Verde. Your expert guide has a keen eye and a high-powered scope, so you can get close up views of beautiful birds. You might spot a hummingbird, trogon or even the resplendent quetzal! 
---
Day 6:

A My Costa Rica driver will pick you up and drive you to Arenal for your stay at Arenal Observatory Lodge. The lodge was originally built in 1987 as a research station for scientists of the Smithsonian Institute. Arenal Observatory Lodge is the only lodge within Arenal National Park and is protected from danger by a deep gorge of the Agua Caliente River. There are more than 500 species of birds in the area making it the best lodge to experience the birdlife of La Fortuna and Arenal.
---
Day 7:

Get your feet off the ground and your head into the canopy to go on our guided Hanging Bridges Birdwatching Tour. These hanging bridges provide an excellent opportunity to spot birds that are normally camouflaged by the thick foliage of the canopy. This area is home to more than 350 species of birds, including migratory and resident species.
---
Day 8:

Dawn at Arenal Observatory Lodge & Spa is stunning. Enjoy the volcano, nature and the variety fo birds and take it all in! 
---
Day 9:

On the ninth day of your vacation, a driver will bring you to Jacó. You will stay at Macaw Lodge which lies between two life zones. Because of this, you will have the chance to see over 300 different species to accumulate in pictures and lists. Walk through pristine trails and spot some of most beautiful birds of Costa Rica, such as Scarlet Macaws, Toucans, Sunbittern, and Northern Jacanas.
---
Day 10:

The Birding Hike introduces you to the world of ornithology. A professional guide takes you along paths and trails, helping you to locate and identify bird species and share information about the natural balance of birds in nature.
---
Day 11: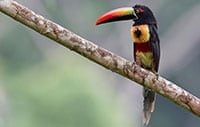 On day 11, visit the Carara National Park. This tour will show you the importance of the region which is situated in a transitional region between tropical dry forest and humid Pacific rainforest. You will be able to see the flora and fauna of this varied ecosystem as well as many colorful species of bird, such as the Scarlet Macaw and the Collared Aracari.
---
Day 12:
On the last day of your Costa Rica vacation, you will go back to San José Airport which takes approximately 1 hour and 45 minutes. Board your flight back home and have a great journey!