Day to day itinerary 
This Luxury Family Getaway in Costa Rica will combine all the best elements of a Costa Rica vacation. Natural beauty, adventure and culture! Have a look at this itinerary that will take you and your family to the iconic destinations of La Paz Waterfall Gardens, Manuel Antonio and San Isidro. Pura vida!
---
Day 1

Welcome to Costa Rica! Our representative will be waiting for you with your personalized welcome package in hand. You will receive a private transfer to you first hotel, the Peace Lodge. Each room comes with a sizable balcony, hot tub, waterfall shower, and stunning stone fireplace. Enjoy!
---
Day 2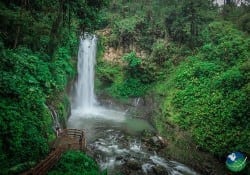 Take a self-guided tour through the fabled La Paz Waterfall Gardens. With its lush tropical rainforest, spectacular waterfalls, white rivers, butterflies, birds, snakes, sloths, monkeys, and jaguars, La Paz is a haven for the nature enthusiast. Wander down the 3.5 kilometer of trail and visit the 10 animal exhibits you will encounter along the way. Visit the Butterfly Observatory, Hummingbird Garden, Serpentarium, Frog Exhibit, Tica House, Trout Lake and different bird watching areas!
At the end of your wander through this tropical paradise, you will be transferred to Manuel Antonio and stay at the Tulemar Resort for the next 3 nights. Tulemar Resort is a full service resort set in the peaceful 33-acre gated Tulemar Gardens Condominium property. A wide variety of standalone accommodations are available, including the famed Tulemar Bungalows & Villas, as well as luxurious 1, 2, and 3 bedroom Villas.
---
Day 3

Experience the rainforest with a dash of adventure! Today you and your family will be taking a waterfall rappelling and canyoning tour. You will descend 30 meters (98 ft.) in free fall, then rappel the final 50 meters (164 ft.) along a lush green canyon wall. After the descending, you climb back up on a perpendicular cable ladder, followed by another zip line cable to the lookout point.
---
Day 4

You can't leave Manuel Antonio without visiting the famous Manuel Antonio National Park. Spot wildlife such as sloths, birds, monkeys, coatis, and more! Also take some time to explore Manuel Antonio's beaches, often labeled the most beautiful in Costa Rica!
---
Day 5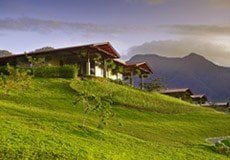 Catch your transfer to San Isidro and check into the Hacienda Alta Gracia. This stunning Hacienda sits on an incomparable natural setting of 350 hectares of lush green land and spectacular views at every turn. They offer spacious casitas as well as suites for the comfort of you and your family!
---
Day 6

Today you and your family can enjoy the Life of a Caballista Tour and experience what it is like to be a horseman in Costa Rica. Interact with and care for a horse in an authentic way and a enjoy breakfast from your saddle bag sitting by the river before returning to the stables to see a caballista shoe a horse.
---
Day 7

What is the life on a farm in Costa Rica really like? Explore this with the Life on a Farm Tour designed to give your family a real taste for the farming lifestyle in Costa Rica. A short horseback ride from the Hacienda will take you to Don Nery's family farm where you'll get a glimpse into the variety of crops grown there – from sugarcane and coffee to plantains. This is a hands-on farming experience where you will extract juice from sugar cane, milk the cow and make cheese, check the chicken coop for fresh eggs and meet other farm animals. During your visit you will get to enjoy various typical Costa Rican drinks made from sugarcane, fresh cow's milk and sample some homemade cheese.
---
Day 8
Hop on a flight back to San Jose and head back home after what we hope was a wonderful experience. Book your next Costa Rica vacation with us and explore more of this sunny country with us!
---