Caribbean Lowlands Birding Tour Day by Day Itinerary
DAY 1:

You will fly into San José International Airport where a representative from our company waits for you. Your Caribbean Lowlands Birding Tour is about to start! At the airport, you will be picked up by one of our drivers and have a comfortable ride to Hotel Bougainvillea. At the Hotel Bougainvillea, you will easily forget that you are so close to downtown San José. This hotel has extensive gardens dominated by mature trees and is brightened by tropical flowers. It offers a picturesque outdoor pool, tennis courts, a fitness center, an epicurean restaurant and a bar for you to enjoy.
---
DAY 2:

On your second day in Costa Rica, you will go to Rancho Naturalista in Turrialba. The transfer takes about 2 hours and 30 minutes. Rancho Naturalista is located in the Caribbean slope in the Cordillera Talamanca. This birding lodge gives you access to great trails in diverse sections of the forest where you can spot a variety of birds. No matter if you are looking for a peaceful walk or a breathtaking hike, Rancho Naturalista has it all.
---
DAY 3:

You will meet with other birders on the balcony at dawn for the Morning Birding Tour. This is the perfect opportunity to see insect feeding species at the time when they become active. After breakfast, you will head out on the trails in the forest reserve to look for mixed-species flocks in the canopy and understory of the forest. Birdwatching in the rainforest can be challenging so you can always take the advice of the experienced guides who will gladly help you. Then you will go back to the lodge and have a healthy lunch.
---
DAY 4:

On the Rio Tuis Valley Birding Tour, you can hike the trail in the vast forest reserve for a few hours or the entire day. The birding is excellent all along and you can find tanagers or monklets.
---
DAY 5: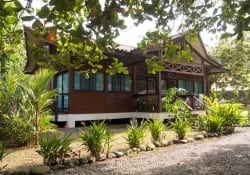 Our driver will pick you up for your trip to Cahuita. The trip will take approximately 3 hours and 30 minutes. Kenaki Lodge offers you a unique retreat in the Caribbean. This hotel is built with tropical woods and has a Balinese style. There will be nature all around you. It is only a short 100 meters walk to the beach, providing you with a beautiful view. The lodge offers surfboards, boogie boards, and bikes for rental.
---
DAY 6:

Enjoy an amazing tour of the unique Gandoca-Manzanillo Wildlife Refuge where you will see many wild inhabitants of the rainforest such as toucans, monkeys, sloths, and caimans. You will be picked up in the morning at your hotel. At the refuge, you will meet your guide who will take you on an jungle adventure for about four hours. On this tour, you will experience a variety of vegetation as well as plenty of birds.
---
DAY 7:

This Birdwatching Tour will take you to the Keköldi Indian Reserve. This place is considered the third most important in the world for the sighting of birds of prey. From this viewpoint we watch an average of 50.000 to 450.000 birds per day during the season. Among them are species like hawks, falcons, toucans, parrots, hawks, warblers, trogons, magpies, and the white-whiskered puffbird. Migration from north to south occurs between August and December, and from south to north between February and May.
---
DAY 8:

On the 8th day of your vacation you will travel to Guapilés which takes about 3 hours. There, you will have a delicious breakfast. Afterwards, you will have a van ride to Pavona where you will board a boat and have a scenic ride to Tortuguero! You will check in to Mawamba Lodge which has a unique and privileged location in the exquisitely evergreen Tortuguero Canals and National Park. Nestled on a fine strip of land between the Caribbean Ocean and the Tortuguero Canals, it blends in with the surrounding natural richness to welcome you in this tropical sanctuary. In the afternoon you will go on the Tortuguero Town Tour. The island town has a fairly basic lifestyle and no cars. Venture down the paths and watch kids playing outside and riding bicycles. It is like discovering the rustic charm from another time.
---
DAY 9:

On your second day in Tortuguero, you will go to the Tortuguero National Park, a protected wilderness area on Costa Rica's northern Caribbean coast. This one of the best places in Costa Rica where you can spot the sea turtles nesting as well as see may bird species, lizards and monkeys.
---
DAY 10:

After breakfast start your transfer (by boat and land) to your next destination connecting via Guápiles. In Guápiles, you will enjoy lunch before a new van picks you up to take you to your new hotel. Tapirus Lodge is the best hotel for birdwatchers and nature lovers. Your room boasts unforgettable views of the forest, mountains and stars. The hotel is close to Braulio Carrillo National Park, which makes it the only nature lodge near the majestic park. The Lodge shares the facilities and services of Rainforest Adventures Eco-Adventure Park, so it is perfect for birding tours.
---
DAY 11:

On this day, you will go on a Birdwatching Tour at Tapirus Lodge. As one of Costa Rica's Top Birding Hotspots, Tapirus Lodge has been recognized by the National Audubon Society as one of the best places for birding in Central America with over 400 species in the surrounding areas. The characteristics of the protected natural private reserve made it a perfect habitat for hundreds of bird species.
---
DAY 12:
On the last day of your Costa Rica vacation, you will go back to San José Airport to board your flight back home. Have a great journey!
---