Nature Birding Tour Day to Day Itinerary 
Get ready for an incredible Costa Rica birding vacation of a lifetime with My Costa Rica's Nature Birding Tour! Thanks to Costa Rica's unique location in Central America, it is full of amazing tropical birds that attract birders from all over the world. From Toucans, Scarlet Macaws and the Resplendent Quetzal to Trograns, hummingbirds and more, you can spot thousands of birds all over the country. In addition to tropical birds you'll also see sloths, howler monkeys, iguanas and unbelievable marine life. This trip will take to the Caribbean coast and Dominical, two perfect locations for birdwatching in Costa Rica. 
---
Day 1:

On day one of your birding vacation you will fly into San Jose, where a My Costa Rica will meet you with your personalized welcome package. We'll take you directly to your first hotel, Hotel Bougainvillea. There you can enjoy on site gardens, tennis courts, fitness center and spa. Sit back, relax and rest up for your birding adventure that starts on day 2! 
---
Day 2:

On day two My Costa Rica will shuttle you to the Caribbean coast of Costa Rica to an eco-lodge called the Shawandha lodge. This comfortable little lodge is located in the jungle about 6 miles from Puerto Viejo de Talamanca. You will be surrounded by tropical rainforest and amazing wildlife. Get ready to wake up to the sound of Howler monkeys! From the Shawandha Lodge you can easily visit Caribbean beaches or the Cahuita National Park. 
---
Day 3:

Today you will visit the Jaguar Rescue Center, a beautiful animal rescue center that rescues and rehabilitates a wide variety of local wildlife. Monkeys, birds, iguanas, sloths and snakes are just a few of the animals they rescue. You'll get a chance to see the animals and learn about the rehabilitation process. 
---
Day 4:

On day four you're headed to the Gandoca Manzanillo Wildlife Refuge, a wildlife reserve close to Panama that is home to several different eco-zones including, lowlands, a mangrove swamp and wetlands. The area offers several different types of habitats, meaning it's home to many of Costa Rica's endangered species. In addition to tropical birds you can also see turtles, monkeys and gorgeous tropical fish. 
---
Day 5:

On day five you will visit one of the best destinations in Costa Rica for birding, San Gerardo de Dota. It's an incredible, unknown area that is home to Los Quetzales National Park. You will check into the Trogon Lodge where you can enjoy a bar, lounge, restaurant and natural trails while you get ready for two days of exploring the nearby flora and fauna! 
---
Day 6 – 7: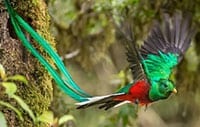 On days 6 and 7, you will experience the world-class Quetzal tour! A professional guide will help you spot the Resplendent Quetzal and other beautiful birds as you hike through Los Quetzales National Park. You can also take some time to relax at the lodge, go hiking and try to spot as much wildlife as you can! 
---
Day 8:

On the 8th day of your birding tour, My Costa Rica will pick you  up and transfer you to your next destination in Dominical. You'll check into Cristal Ballena, where you can enjoy ocean views, a 30-acre garden, swimming pool and surrounding tropical rainforest. 
---
Day 9

Take the Cristal birding tour and check out the beautiful region as you go looking for the best birds of Costa Rica. After the tour spend your time at Cristal Ballena relaxing or hiking around the area and check out all the wonderful flora and fauna right outside your hotel room. 
---
Day 10:
The last day has arrived and it is time to head back to San Jose where you will stay in Hotel

again for your last night in Costa Rica
Day 11:
My Costa Rica will shuttle you back to the Juan Santamaria International Airport in time to catch your flight home. We hope to see you again soon!