Birding in Costa Rica's Northern Zone Day by Day Itinerary 
Birding in Costa Rica is one of the most popular activities in this lush tropical country. From the Resplendent Quetzal to Scarlet Macaws to the Keel-billed Toucans, Costa Rica is full of incredible bird species, exciting birding tours and spectacular bird watching. My Costa Rica has put together several birding Costa Rica vacation packages and Costa Rica birding tours for every type of birder. In this Birding in Costa Rica's Northern Zone vacation itinerary you will travel to the Arenal Volcano, Caño Negro, Monteverde and Guanacaste–some of Costa Rica's best birding hotspots.
---
DAY 1:

You will fly into San José International Airport where a representative from our company will be waiting for you with a personalized welcome package. Your My Costa Rica representative will transfer you to Hotel Bougainvillea. At the Hotel Bougainvillea you will easily forget that you are just 15 minutes from downtown San José thanks to their expansive and beautiful gardens. Hotel Bougainvillea also offers a picturesque outdoor pool, tennis courts, a fitness center, an epicurean restaurant and a bar for you to enjoy. Rest and relax and get ready for almost two weeks of birdwatching in Costa Rica!
---
DAY 2: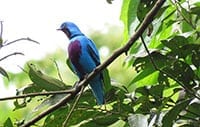 Our driver will pick you up and drive you to Arenal for your stay at Arenal Observatory Lodge. The lodge was originally built in 1987 as a research station for scientists of the Smithsonian Institute. Arenal Observatory Lodge is the only lodge within Arenal National Park and offers awe-inspiring views on the iconic volcano. There are more than 500 species of birds in the area making it the best lodge to experience the beautiful variety of birds of La Fortuna and Arenal. Some of the birds you might spot are the Cotinga, Umbrella Bird, Yellow-Eared Toucanet, Great Curassow and the Astonishing Tiger-Heron. 
---
DAY 3:

Get your feet off the ground and your head into the canopy! You will go on our guided Hanging Bridges Birdwatching Tour at the nearby Mistico Arenal Hanging Bridges Park. In their reserve, a local guide will help you spot a great variety of bird species and have the opportunity to see the tropical rainforest from the sky. Consequently, these hanging bridges provide an excellent opportunity to appreciate birds that are normally camouflaged by the thick foliage of the canopy. This area is home to more than 350 species of birds, including migratory and resident species. Lookout for a Tanager, hummingbird, trogon and other famous birds of Costa Rica. 
---
DAY 4:

Dawn at Arenal Observatory Lodge & Spa is spectacular. The nature, the birds, the volcano. Take it all in and enjoy a day bathing in this magical atmosphere! 
---
DAY 5:

Your private transfer will take you from Arenal to Boca Tapada in approximately 2 hours. Caño Negro Natural Lodge is located just by the refuge which has an extension of 9960 hectares and is one of the most important biological areas of the country. The lodge itself features 22 deluxe rooms each with elegant furniture and air conditioning. 
---
DAY 6:

On day 6 of your Costa Rica tour, come and visit the most important observation points and discover the wonders of Caño Negro Wildlife Refuge, considered one of the richest places on the continent for bird watching. You will have a lot of time to find the best spots for pictures and observation. You can focus on wildlife in general, birdwatching and photography. This wetland has more than 350 species of birds such as Northern Jacana, Neotropical Cormoran, Great Blue Heron, Anhinga, and Roseate Spoonbill.
---
DAY 7:

On the seventh day of your vacation, you will travel to Monteverde. Our driver will pick you up and bring you to Trapp Family Lodge which is a great choice for an unforgettable vacation in the lush green mountains of Monteverde. It is the closest hotel to the famous Monteverde Cloud Forest Reserve, and therefore surrounded by a paradise of flora and fauna. You will be able to enjoy Monteverde's incomparable beauty in spacious rooms with two queen size beds and great views on the cloud forest.
---
DAY 8: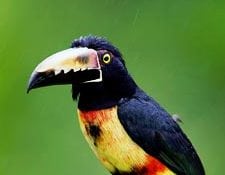 The Birdwatching Tour at Curi-Cancha Refuge starts in the lower part of a private farm in pre-montane humid forest bordering Monteverde Cloud Forest. You will be hiking along natural paths with a variety of habitats in the Costa Rica highlands. In addition to the incredible flora and fauna, you'll have the opportunity to observe different birds while walking through secondary and primary forest. Most noteworthy are Blue-Crowned Motmots, Orange-bellied Trogons, Keel-billed Toucans, Resplendent Quetzals, and Three-Wattled Bellbirds to name a few.
---
DAY 9:

Our driver will pick you up and drive you to your next hotel, Rancho Humo Estancia. Rancho Humo Estancia offers you pure enjoyment of nature, outstanding bird-watching, and adventure at its best. 
---
DAY 10:

You will be picked at 6:45am at Rancho Humo Estancia and go to Palo Verde National Park. This beautiful park is located in the lowlands of the Nicoya Peninsula. Our bilingual tour guide will guide you through the lush tropical dry forest, mangroves and wetlands of the Palo Verde National Park and Tempisque River while you are spotting wild life. Perhaps you'll even get to see the rare mangrove hummingbird! This half-day trip is the perfect way to combine a boat tour on the Tempisque River with a hike in Palo Verde National Park.
---
DAY 11:

On this day, you will have another adventure and depart from Rancho Humo Estancia in one of our Land Rover Safari jeeps. You will go on a journey through wetlands where wildlife seems to be taking over. Hundreds of aquatic birds fly around and feed from the richness of these lands. Keep your eyes open to spot Wood Storks, White and Tiger Herons, the Jabiru, and several other Costa Rica birds!
---
DAY 12:
On your last day in Costa Rica, My Costa Rica will you take you back to San Jose to catch your flight home. We hope you enjoyed your birding vacation and that you visit Costa Rica again!