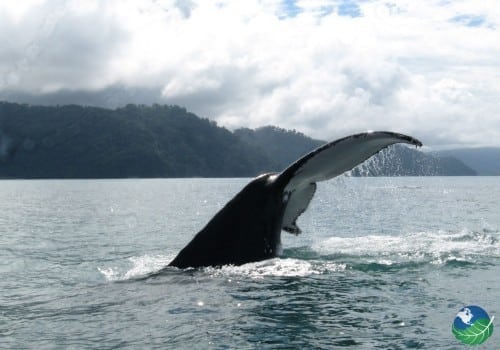 The town of Golfito Costa Rica
Golfito as a city is tiny but beautiful. Full of locals that are ready to welcome you. Golfito Costa Rica is an up and coming tourist town, only within the past few years has it seen more tourist traffic. In fact, this little port town is located just a boat ride away from the Osa Peninsula. Also not far from many gorgeous and peaceful beaches. It's a common sight to see crews ships stopping by weekly. 
What to do In Golfito Costa Rica
You might ask if it's such a small place, what is there to do? Well, don't worry there are plenty of things to do here. For example birding, scuba diving, sportfishing, surfing, and swimming. And let's not forget Whale Watching, this by far is one of the best tours of Golfito. So many locals rave about seeing Whales and Dolphins all year long. 
Surrounding Golfito are some of Costa Rica's best beaches!  Just south of the town is Pavones Beach famous for it's long left break. Visitors to the area are also encouraged to explore the magical mangroves that are habitats for the abundant bird and animal life that are in this area.  Golfito is the perfect jumping off point to explore some of the great nature opportunities of the Gulfo Dulce area of Costa Rica! Another great water adventure is Cavernitas Falls – a series of twenty waterfalls and beautiful exotic plant life – a must see for all tourists to the area!   Kayaking tours have also become increasingly popular among eco-tourists to the area – the perfect way to observe the local abundance of bird and animal life while slowly paddling thru the serene waters surrounding Golfito.
Top Destinations in Golfito Costa Rica
The top destinations of Golfito Costa Rica are all over the map. Probably the most sot after is Corcovado National Park. Here is where the wild things are. Unlike the book "Where the Wild Things are" you will see wildlife. Such diversity in this region, it is breathtaking.
Secondly, another great place to see is Caño Island. Caño is famous for scuba Diving. Here you will see a vast array of marine wildlife. For example Manta Rays, Dolphins, Whales, Sharks, and a huge variety of fish. The Golfito Marina is an up and coming destination. It started construction late 2016 and is set to be finished by 2018. Finally, if you're looking for some time out on the water, the Golfo Dulce is what you're searching for. This Golf drops 600 feet before reaching the see floor.
Hotels in Golfito Costa Rica 
If you're looking to stay right in town Casa Roland Resort is a great place try out. This charming resort features a pool, cozy rooms and plenty of space. Also if you're looking for something a little more rugged, check out Tiskita Jungle Lodge. The lodge was designed with inspiration from the Star Wars Ewok huts. But you won't find any lightsaber battles here. It's actually very secluded and a great place to connect with nature. Saladero Ecolodge also secluded and peaceful has some interesting mangrove tours. Come here if you want to try your hand at kayaking. For a full list of Hotels and Lodges Check out where to stay in Costa Rica.
Duty-Free Paradise!
To boost economic conditions in the area after the departure of United Fruit Company, the government of Costa Rica established a duty-free zone in the city of Golfito.  This has not only provided employment for the local population, but also an outlet for Costa Ricans to find reasonably priced goods.  The establishment of the Duty-Free Zone has also enhanced the overall stability and healthy economy of the Golfito area.  This makes the area even more attractive for visitors as the increase in prosperity is reflected in dedication to ecotourism and the preservation of the natural beauty which surrounds the city.  Definitely a spot to include on your Costa Rica vacation – Golfito has something for everyone!
Why Golfito 
Have we wet your appetite for adventure or relaxation. Thats just the beginning for what Golfito Costa Rica has to offer you. The weather is simply lovely here. And for most of the year you can experience a dryer forecast. Also the rainy season or green season is nothing to bock at. During that time you will see the rainforest lighten up with a whole new shade of color and life. What about the remoteness? It really isn't that far from civilization. Golfito has a great airport for going to and from Juan Santa Maria. Too its a great base for stemming out on your travels of Southern Puntarenas Costa Rica. We can't focus enough on the beauty of this region from its beaches to the national parks and animals.
Come experience the Pura Vida of Golfito Costa Rica.